Product Literature
Reviews, Whitepapers, Case Studies and more


The EDGE REVIEWS
Interested in hearing what others have to say about our products? Visit the Reviews Page today.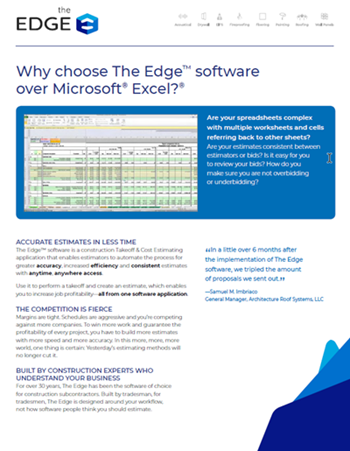 Excel vs The EDGE
Why choose The EDGE™ software over Microsoft® Excel®? Are your spreadsheets complex with multiple worksheets and cells referring back to other sheets? Are your estimates consistent between estimators or bids? Is it easy for you to review your bids? How do you make sure you are not overbidding or underbidding?
The EDGE Estimator – Professional-grade takeoff and cost estimating solution
Designed by experienced construction industry professionals, The EDGE is the most effective takeoff to estimate solution in the industry. Not only is The EDGE completely customized to your trade, but it's also customized to your business so that your takeoff sources the exact materials and manufacturers that your business utilizes.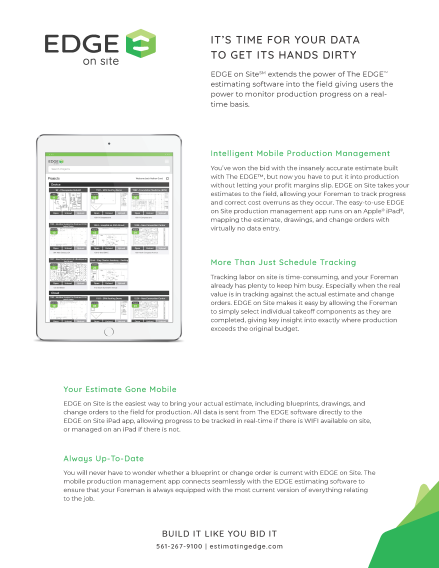 EDGE On Site
You've won the bid with the insanely accurate estimate built with The EDGE™, but now you have to put it into production without letting your profit margins slip. EDGE on Site takes your estimates to the field, allowing your Foreman to track progress and correct cost overruns as they occur. The easy-to-use EDGE on Site production management app runs on an Apple® iPad®, mapping the estimate, drawings, and change orders with virtually no data entry.
The EDGE and EDGE On Site Training
Estimating Edge has multiple options for training. Whether, it's In-House, On-Site or the Internet, we've got you covered.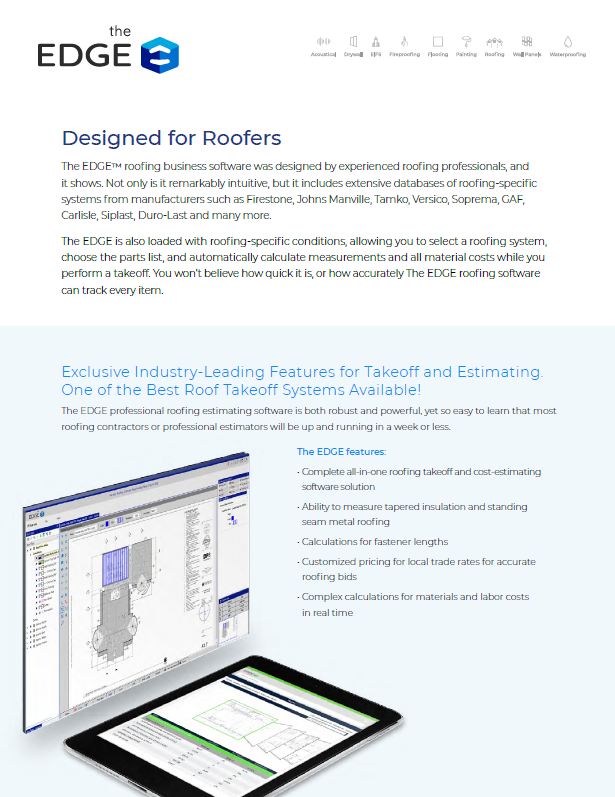 The EDGE – Commercial Roofers
The EDGE is also loaded with roofing-specific conditions, allowing you to select a roofing system, choose the parts list, and automatically calculate measurements and all material costs while you perform a takeoff. You won't believe how quick it is, or how accurately The EDGE roofing software can track every item.
Plus, the Tapered Insulation and Standing Seam Roofing Modules Give You Even More Control.
The EDGE – Commercial Acoustical, Drywall and Wall Panel Subcontractors
Why choose The EDGE if you are a subcontractor who installs acoustical, drywall and wall panels.
The EDGE – Fireproofing
Why choose The EDGE if you are a subcontractor who specializes in fireproofing