Waterproofing

Estimating Software

The only Waterproofing Estimating Software that provides accurate, automated results from takeoff to final estimate.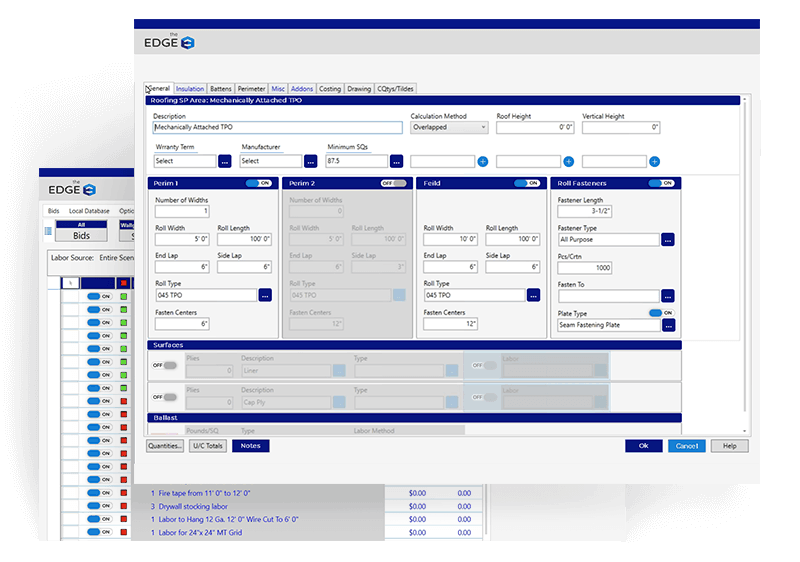 The EDGE™ Estimator Waterproofing Software Features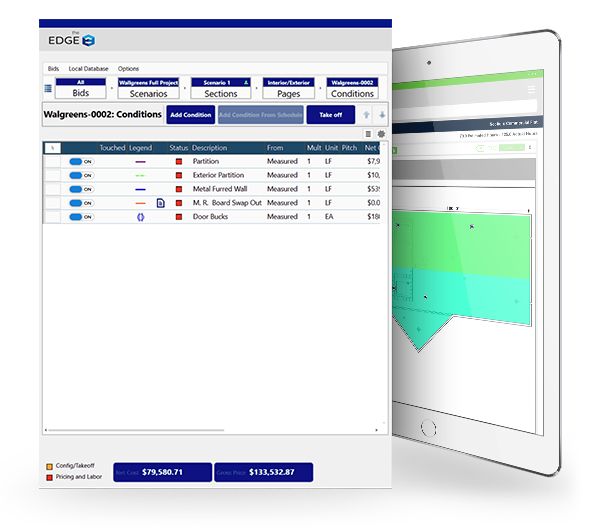 Exclusive Industry-Leading Features for Waterproofing Takeoff and Estimating
The EDGE professional waterproofing estimating software is both robust and powerful, yet easy enough to learn that most waterproofing contractors or commercial estimators will be up and running in a week or less. The EDGE features:
Complete all-in-one takeoff and cost-estimating software solution
Customized pricing for local trade rates
Complex calculations for materials and labor costs in real time
Designed for the Waterproofing Trade
We know your business thrives in the details. That's why we built The EDGE to accommodate waterproofing specific details for the most accurate estimating in the industry. Our takeoff can measure every single detail, including concrete walls, control joints, ventilation pipes, and of course areas of waterproofing needed. Setup waterproofing types and configurations for your project, do your takeoff, and The EDGE will calculate a complete tally of materials and production costs based upon the system and the field items for stocking the job. Not only is it remarkably intuitive, but it includes extensive databases of waterproofing-specific systems from manufacturers such as Tremco, Carlisle, Grace, Procor, Hypro-Stop, Crystalline and many more.
Produce detailed reports including profit recap reports, alternate pricing, ordering, and job costing, with either separate or combined recaps. The EDGE does exactly what you need it to do. Don't leave anything to chance. Get The EDGE.

Analytics and Reporting
Insight is there whenever you need it. Access to key analytics and reporting are always at your fingertips, giving you the tools you need to make more informed decisions.

Best Customer Service
Expect the industry's absolute best customer service from sales, support, and training staff who have actual experience in your trade. Count on us as part of your team.

Cloud Based
Your estimates and data will safely and securely reside in the cloud, allowing both estimators and their teams to work together even when you can't get together.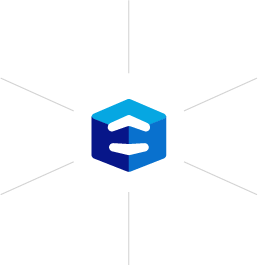 Industry-Leading Features
Dedicated to innovation and streamlining the estimating process, The EDGE is the only solution that offers cutting-edge features like Smart Labor™, and the ability to automatically update an entire project with a click of the mouse.

Trade-Specific Solutions
The EDGE is completely customized to your trade, and is intelligent enough to use the same language, manufacturers, and measurements that you use in your business.

One-on-One Training
Our estimating software is intuitive, but we offer hands-on training and awesome tech support to ensure your business is able to get the most out of it.
Take the Next Step
See what The EDGE construction estimating and takeoff software can do for your business.