The Professional
Advantage
Estimating Edge creates the best software in the construction industry to give you a competitive edge.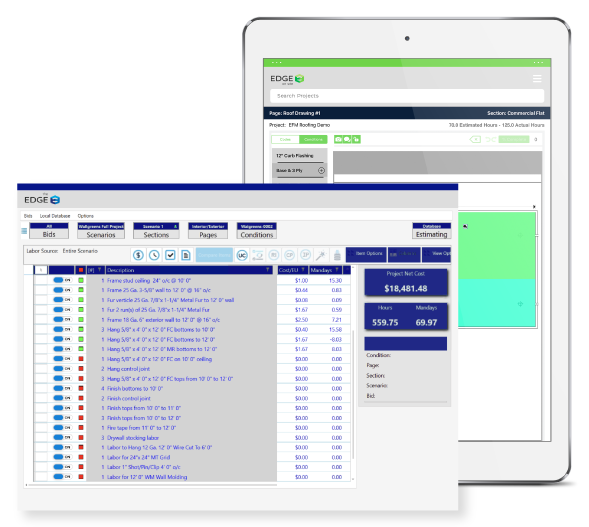 Builder Built. Pro Preferred.®
We're not some group of elite software engineers trying to pretend we know what contractors need. Nope. Rather, we're a team of experienced tradesmen and industry professionals who have spent years "in the trenches," building estimates, and building from estimates.
This is why we've been able to create the industry's best estimating and takeoff software, an all-in-one solution that is not only remarkably intuitive, customizable to the way your company estimates, and easy for estimators to use, but also detailed enough to bid the most complex jobs with estimates that are accurate down to the last nail.
We've spent the better part of three decades perfecting our software in pursuit of our goal of helping contractors of all sizes estimate more efficiently and become more profitable.
We're on Your Side
In addition to making the finest estimating software in the industry, we also offer the best customer service, hands down.
After all, it's one thing to provide users with estimating and production management software that helps them compete for the job. It's another thing to make sure they are able to use it. We offer intensive hands-on training for our software and U.S. based tech support to answer any questions that might arise.
Put simply, we don't just want you to use The EDGE® and EDGE On Site®, we want you to love it.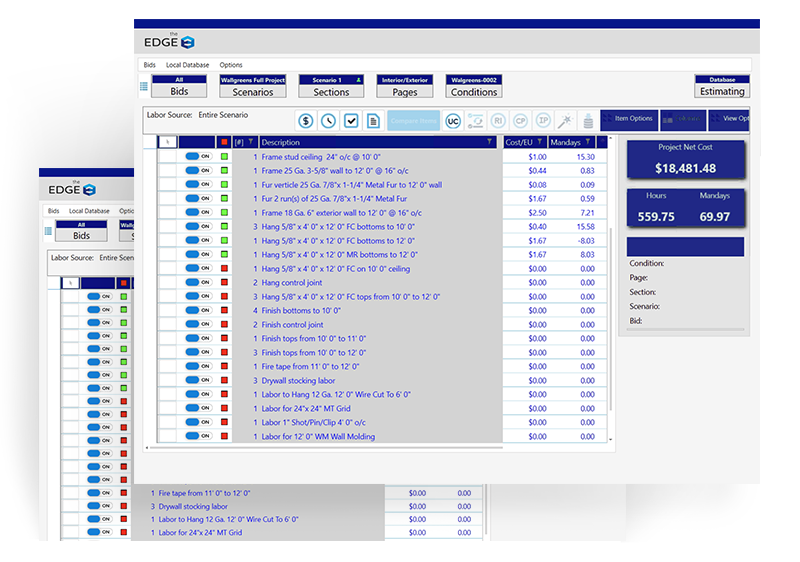 THE EDGE SOFTWARE
Software Built for Estimators
Robust and detailed enough for bids of any size, The EDGE takeoff and estimating software is intuitively designed to help both new and seasoned estimating professionals work smarter, bid sharper, and build better.
EDGE ON SITE APP
Construction Jobsite Project Management App
EDGE On Site extends the power of The EDGE estimating software into the field, allowing teams to track production progress in realtime with virtually no data entry. Find and correct cost overruns as they occur, and improve the accuracy of your estimating on future bids while keeping on time, on target, and on top of every job from estimate through completion.
"

The EDGE is an incredible tool that every commercial roofing company should be using, and if they're not, they're losing money.

"

Carl Morse

Estimator and Project Manager, Yorkshire Federal, Inc.

"

Even with other companies coming along trying to entice us to use their programs, we are so satisfied and invested with The EDGE that we have stayed with it for so long.

"

Pat Fortliti

Estimating Vice President, Olympic Companies

"

Companies need to take a look at The EDGE because it is a very comprehensive system with an excellent database. There really aren't any other programs out there that are as comprehensive as The EDGE.

"

Joe Colavita

Chief Fireproofing Estimator, Martin Brothers

"

I'm surprised that everyone is not using The EDGE. It is the single best piece of equipment that we use in this business.

"

Dale Gillis

Owner and Estimator, Carolina Commercial Roofing Co.

"Companies need to take a look at The EDGE because it is a very comprehensive system with an excellent database. There really aren't any other programs out there that are as comprehensive as The EDGE."

Joe Colavita

Chief Estimator, Martin Brothers

"The EDGE is an incredible tool that every commercial roofing company should be using and if they're not, they're losing money."

Carl Morse

Estimator and Project Manager at Yorkshire Federal

"This is the future of tracking jobsite production! We were tracking with paper Microsoft® Excel® but with EDGE On Site we get real-time updates. The project manager and foreman love being able to access the plan details and see the job progress from the overview screen. This app simplifies communication."

EDGE On Site User

Project Manager

"Using EDGE On Site has allowed us to replace the field teams' detail book. It not only increases the production accuracy but it's an excellent way to communicate with our field crew. And because of EDGE On Site we've been able to alleviate the need for daily production meetings. Remarkable App!"

EDGE On Site User

Project Manager

"Compared to other options this job site project management app allows us to be accurate and investigate issues quickly! Before we could only give rough estimates, but with EDGE On Site, we can be precise with the production schedule. While you are in the field, you can quickly investigate issues that have been missed or don't add up by viewing how the estimator specified the pages, types and codes, materials, etc. This app saves so much time and is extremely accurate!"

EDGE On Site User

Project Manager

"Now I Can Get Ahead of Job Site Issues. Since I rarely go to the job site, unless something went terribly wrong, I can see where EDGE On Site changes the daily conversation of where are we on each project."

Drywall Subcontractor

"I think the Webinar's are great! You all to a great job in presenting them and it is easier to grasp the intention that you are trying to convey. I do like it when I can go back and see them again to refresh myself with them. Keep up the great job!"

FL Crane & Sons

Mike Crane

"The creators and architects of The EDGE were designed by people who know what they're doing; they have been studying nothing but construction estimating for decades and are, without question, experts on how to estimate construction work. They are taking their expertise and the best practices from the best, most progressive contractors out there."

John Maxwell

President | Maxwell Roofing and Sheet Metal