The Most Complete

Estimating Solution


for Your Trade

Professional-grade takeoff and cost estimating in one easy-to-use software package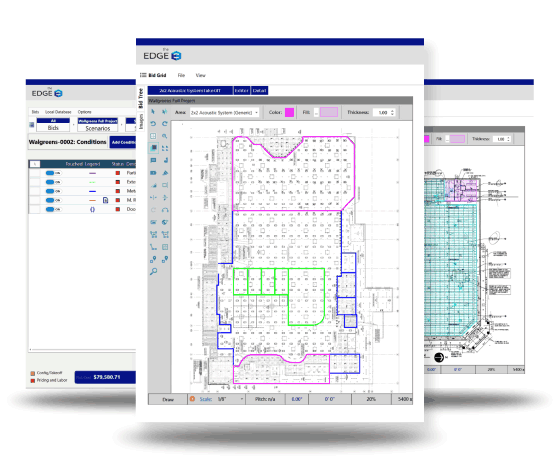 Builder Built. Pro Preferred.®
The EDGE® construction estimating software enables commercial subcontractors to prepare estimates with greater accuracy, as well as increased efficiency and consistency. Do a takeoff with precise measurements from project blueprints simply by clicking the screen with your mouse. And because we offer in-depth manufacturer databases, The EDGE will update your material and labor costs immediately, while also checking for costly errors. So you can bid with confidence.
Designed by experienced construction industry professionals, The EDGE is the most effective takeoff to estimate solution in the industry. Not only is The EDGE completely customized to your trade, but it's also customized to your business, so that your takeoff sources the exact materials and manufacturers that your business utilizes.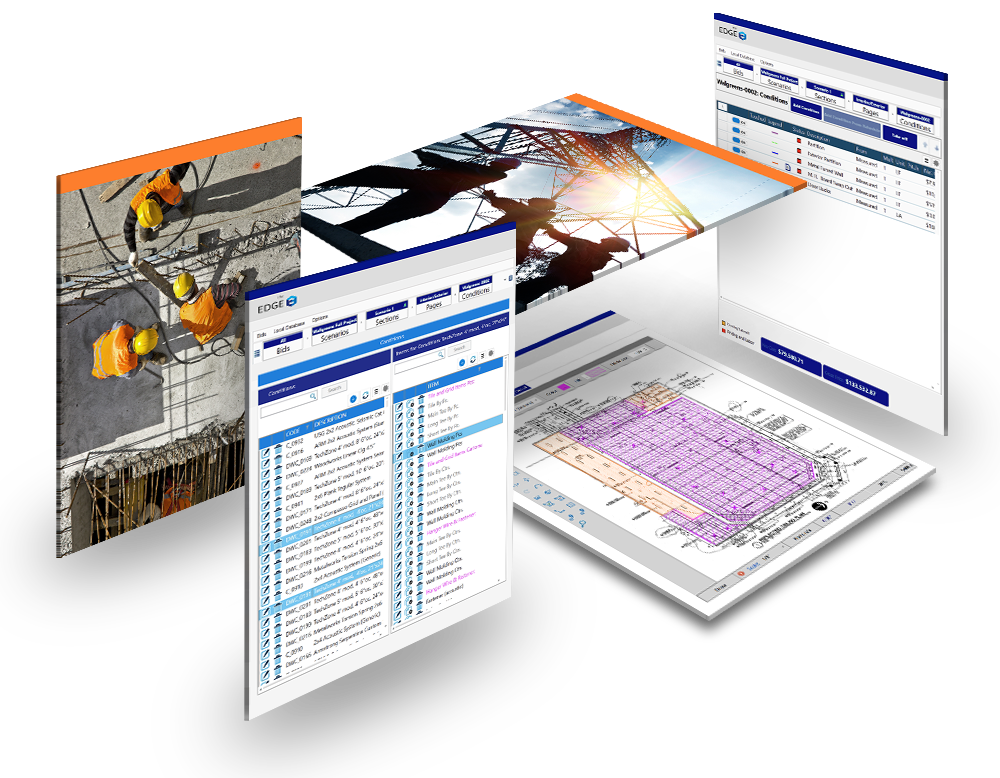 Trade-Specific Tool
Finally, software that can really talk shop. The EDGE is not only designed to meet the precise needs of individual trades, but it comes further customized for those trades with databases of trade-specific materials from the manufacturers you use. Easily customize your software further by adding your own products, labor rates, markups such as tax rates, overhead and profit and even define if specific jobs are bonded, ensuring that your estimates accurately detail the way your business really works.
Mutliple Bid Options or Change Orders
Whether you need to value engineer a bid, create bid variations or prepare a change order, The EDGE can help you envision a variety of scenarios in an instant. Simply copy a scenario and then adjust the materials and labor rates allowing you to create options for your client. The EDGE makes it easy.
Smart Edits
Professional estimators know how things can change. The material that you've specified may become unavailable, or suddenly change in price. The EDGE tracks every element throughout the entire estimate, so that any update is made uniformly wherever that element is referenced across the bid.
Built by Builders
The EDGE is the best construction estimating software available. Period. Not just because we use cutting-edge technology, or because we offer the best customer service in the industry. Rather, it's because we understand your business. The EDGE complete takeoff and estimating software is developed specifically for your trade by experienced industry professionals and top-tier programmers to work the same way you do. This makes it remarkably easy to learn and even easier to use, with hands-on training that will get you up and running quickly.
Focus on Estimating
We've been doing this for 30 years. To us, estimating is not an upsell. It's not a feature on your accounting software. It's your next job, before there is a next job. It's something that can make or break your chances at winning consistent work, so we take it very seriously. Making your business more profitable is something we work on every single day.
See what The EDGE construction estimating software can do for your business. Schedule a demo today.
"This is the future of tracking jobsite production! We were tracking with paper Microsoft® Excel® but with EDGE On Site we get real-time updates. The project manager and foreman love being able to access the plan details and see the job progress from the overview screen. This app simplifies communication."

EDGE On Site User

Project Manager

"Using EDGE On Site has allowed us to replace the field teams' detail book. It not only increases the production accuracy but it's an excellent way to communicate with our field crew. And because of EDGE On Site we've been able to alleviate the need for daily production meetings. Remarkable App!"

EDGE On Site User

Project Manager

"Compared to other options this job site project management app allows us to be accurate and investigate issues quickly! Before we could only give rough estimates, but with EDGE On Site, we can be precise with the production schedule. While you are in the field, you can quickly investigate issues that have been missed or don't add up by viewing how the estimator specified the pages, types and codes, materials, etc. This app saves so much time and is extremely accurate!"

EDGE On Site User

Project Manager

"Now I Can Get Ahead of Job Site Issues. Since I rarely go to the job site, unless something went terribly wrong, I can see where EDGE On Site changes the daily conversation of where are we on each project."

Drywall Subcontractor

"I think the Webinar's are great! You all to a great job in presenting them and it is easier to grasp the intention that you are trying to convey. I do like it when I can go back and see them again to refresh myself with them. Keep up the great job!"

FL Crane & Sons

Mike Crane

"The creators and architects of The EDGE were designed by people who know what they're doing; they have been studying nothing but construction estimating for decades and are, without question, experts on how to estimate construction work. They are taking their expertise and the best practices from the best, most progressive contractors out there."

John Maxwell

President | Maxwell Roofing and Sheet Metal

"The EDGE lets me save $70,000 – $80,000 per year by not needing to hire additional estimators."

Dale Gillis

Owner & Estimator | Carolina Commercial Roofing, Inc.

"The EDGE is user friendly, easy to learn and incorporates many safeguards to help avoid mistakes. Construction estimates can be completed 5 times faster than other programs. The technical support has always been outstanding! I have said many times If The EDGE was not available, I would quit estimating."

Roger J. Smith

Senior Vice President | Crowther Roofing & Sheet Metal of Florida, Inc.

"We would not be able to accomplish what we do without the estimating capabilities that The EDGE has provided. The EDGE interfaces with our accounting system and our payroll department thus allowing valuable data sharing and enhanced managerial capabilities. I am very appreciative of our relationship, your product, and the ongoing service that your firm provides."

Hunter Green

Director of Estimating | Saratoga Roofing & Construction

"We've used The EDGE since 2009 and it works great, prompting us to include every conceivable product and labor component. It has allowed us to quote more work and be 50% quicker and more precise. The drawing reports give my customers confidence that our price accurately reflects the job. Technical issues are always handled promptly and professionally. By using the EDGE we can be more competitive, profitable and confidant with our proposals."

Gary Fehr

Pro West Interiors BC Ltd.

"We have been using The EDGE since 1990. Not only does The EDGE allow us to quickly and accurately generate estimates, but it allows us to manage our projects more efficiently. The responsive and friendly technical support team has successfully helped us customize our software to fit our specific needs. I recommend The EDGE to anyone that is looking for robust but easy-to-use construction estimating software."

William H. Roark

President & Owner | Acoustics & Specialties, LLC

"The EDGE construction estimating software has been our only solution since 1991. We depend on The EDGE for accurate takeoffs along with detailed pricing for all our divisions including Drywall, Acoustical, EIFS, Fireproofing, Flooring, Painting, and Metal Wall Panels. The Estimating Edge staff has a deep commitment to customer satisfaction. I highly recommend The EDGE solution for estimating."

Mike Heering

President | FL Crane & Sons, Inc.