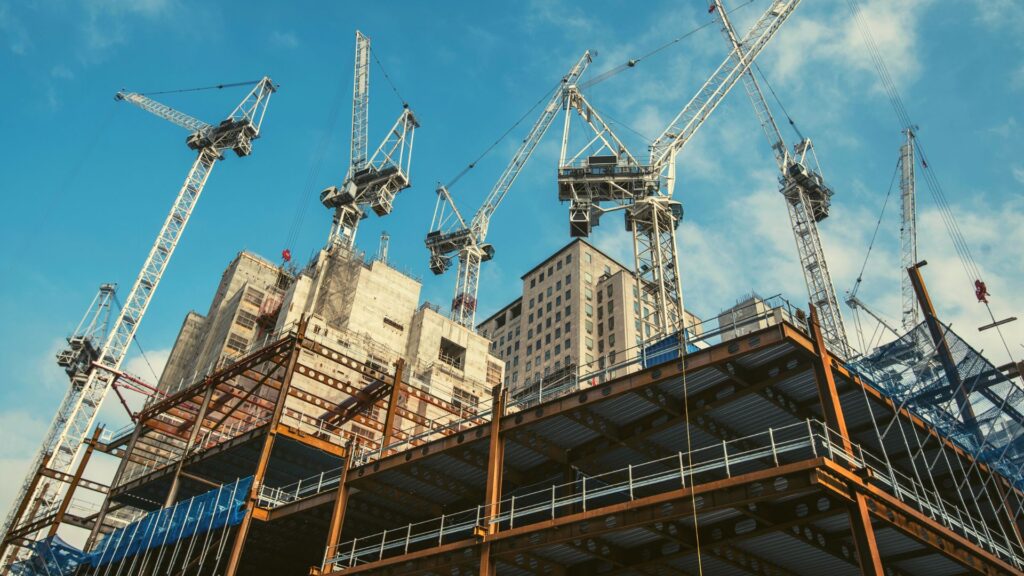 A takeoff is a crucial element of the success of almost any construction company's bidding process. Conducting a takeoff is one of the initial steps in a construction bid proposal, and takeoff software is a powerful tool that can help streamline and simplify the construction estimation process. By automating manual takeoff calculations, construction takeoff software can save contractors and builders significant time and money.
Construction Takeoff: What is it?
An estimator must know the types and quantity of material required to complete the job. A takeoff, also known as a material takeoff or quantity takeoff, calculates the materials needed for a construction project. This involves analyzing the blueprint to determine the types and quantity of materials required for each part of the project. The construction takeoff is an essential step in the construction process, as it helps contractors accurately estimate the amount of materials required for the project. The takeoff can be done manually or with the help of specialized software.
Manual takeoffs for commercial construction used to take hours, depending on the project size. Armed with blueprints, a pencil, a ruler, and a calculator, the estimator completed the work manually. Measuring walls, windows, doors, flooring, and counting every aspect of the job was tedious, often resulting in human error.
Construction takeoff software provides an accurate count of the materials needed and then the numbers can be automatically uploaded into the estimating software. No more missed or transposed numbers creating incorrect data.
How Important is Accuracy in a Construction Takeoff?
A takeoff is the foundation for a project's cost estimate, helping determine how much money is required to complete the project.
If the takeoff is inaccurate, it can result in significant financial losses, missed deadlines, and potential legal disputes. Overestimating the materials and labor can make a project uncompetitive, while underestimating can result in cost overruns, delays, and, ultimately, a failed project.
Therefore, ensuring the takeoff is as accurate as possible is crucial. By prioritizing accuracy in the takeoff process, construction companies can ensure a realistic and competitive cost estimate for their projects, reducing the risk of financial losses and project failure.
Construction Estimating Software: What is it and How Does it Work?
Although takeoff is the first step in creating a proposal, construction estimating software helps construction professionals estimate the costs for the labor and materials required to complete a construction project. Construction estimating software typically includes various features that can calculate labor costs and generate job breakout reports. It may also include components for change order tracking, bid management, and data report editing.
Using integrated construction takeoff and estimating software can help reduce errors, improve the accuracy of cost estimates, save time, and improve efficiency. It can also help construction professionals manage their projects more effectively by providing real-time pricing updates and insights into project costs by adjusting the prices based on supplier information. Contractors see progress by comparing the estimate to the actual costs.
Top Features of Construction Takeoff Software
Selecting the takeoff software that best fits your company's needs is an important process. There are several features to consider when making this decision:
3D modeling allows for 2D takeoff without having to learn complicated 3D software. This option also means design conflicts are identified early in the process.

Web-based construction takeoff software means consistent updates and quick technology.

A cloud-based system easily save and stores all necessary documents — no more shuffling through paperwork, as everything is accessible.

Customizable templates and innovative assemblies that save within the system equate to less work.

Breakout reports that can be exported to share with the accounting team, contractors, field teams, and owners.

A filter and search space to find information quickly and easily.

Integration with estimating software for a smooth, streamlined method of bidding.
Construction Takeoff: What's Included?
Construction takeoffs can look different for every project. But, in general, there are a few pieces of information that are always included. There will always be lists for the materials and assemblies needed to complete the job. And each item's dimensions and quantities will also be noted. 
Construction Takeoff: What's Not Included?
While a construction takeoff typically includes detailed lists of resources and costs, some items may not be included, such as:
Permits and Fees: Costs associated with obtaining permits, inspections, and other regulatory requirements may not be included in a construction takeoff.
Design and Engineering: Costs associated with design and engineering services may not be included in a construction takeoff, as a separate team may perform these services.
Land Acquisition: Costs associated with acquiring land for the construction project may not be included in a construction takeoff.
Legal Fees: Costs associated with legal services such as contract review, dispute resolution, and litigation may not be included in a construction takeoff.
Contingency Funds: Contingency funds, typically set aside to cover unforeseen expenses or changes in the scope of work, may not be included in a construction takeoff.
Overall, a construction takeoff provides a detailed estimate of the materials, labor, equipment, and costs associated with a construction project, but there may be additional costs that are not included in the takeoff and should be considered by the contractor.
The Takeoff Process
When doing a digital construction takeoff, the estimator loads the blueprint into the software. The system can pull a list of required materials and prefabricated items from its comprehensive database. Using the calculations done by the software, the quantity and measurement needed for each item is determined.
The construction takeoff is then moved to the estimating part of the software. This portion must also be automatically uploaded to avoid any mistakes in the entry. The estimating software takes the data and draws from its pre-populated supplier pricing lists to calculate material costs.
What are the Potential Challenges of a Construction Takeoff?
The biggest challenge of takeoff is accurate counting. Commercial construction projects are typically more extensive, and a slight miscalculation often leads to a significant difference in pricing. That is why construction takeoff software is the best way to go. If you are using quality software meant for construction, counting is automated. The blueprints are simply loaded into the software; the rest is done for you. 
5 Benefits of Using Construction Takeoff Software
To create job-winning bids, contractors need accurate takeoff – which is where takeoff software comes in. Five advantages of construction takeoff software include:
Save Time and Get Quicker Results: Shave 40-70% off of takeoff and estimate time by using software that provides a combination of effort—saved items like prefabricated components, and recurring items save time on similar job bidding.
Boost Efficiency & Productivity: Eliminate costly errors and meet deadlines for bidding.
Facilitate Improved Collaboration: Construction takeoff software allows for real-time collaboration, enabling team members to work together on the same project simultaneously. This improves communication and reduces the risk of errors caused by miscommunication.
Send Precise Bids: Rest assured that your bid is precise and doesn't contain over- or under-bidding.
Obtain a Competitive Edge: With intelligent templates and a professional bidding process, construction takeoff and estimating software give companies a competitive edge.
Final Thoughts on Construction Takeoff Software!
Set yourself up for success by automating the takeoff process. Spend more time winning bids and less time measuring! 
Estimating Edge offers industry-specific takeoff and estimating software. Our team of expert construction professionals designed our system just for you! With over 30 years of experience, let us help you streamline your processes. 
Request a demo: (844) 334-3378